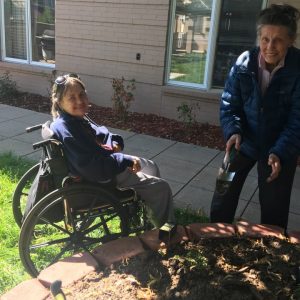 For more than 100 years, The Argyle has served the community by providing affordable, high-quality living accommodations and services to seniors in Denver. We also like to give back to the community by cultivating close relationships with local universities, schools, non-profits, medical providers, and other organizations doing wonderful things throughout Denver.
Our Partners in Denver
We maintain a variety of partnerships with schools, vendors, and other organizations. From family meet and greet days with former NFL players to book drives with local schools, community involvement is an important value here.
These are some of the community organizations we team up with regularly:
Regis University Volunteer Program: students volunteer here at The Argyle by spending time with residents including going on outings together.
Skinner Middle School: students read to Argyle residents throughout the school year.
All Comforting Things: creates special, hand-made items for incoming Argyle residents such as purses, blankets, walker bags, soaps, custom clothing and more.
Leprino Foods: chips in with annual outdoor gardening every spring.
Edison Elementary School: students volunteer to help with numerous community activities during the school year.
Preferred Providers: Physician House Calls and Rocky Mountain Senior Care visit our residents directly for medical appointments and consultations.
Contact us to schedule a tour – we'd love to meet you!
Call today to schedule a tour 303-455-9513
I love living at The Argyle – the staff is so helpful – Mary S.