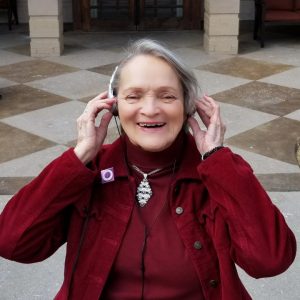 Life is better with music, and we're proud to offer this innovative program. Residents who participate in this free program will work with family, staff and volunteers to reconnect with the music that they love most, and the positive impacts on quality of life and cognitive functioning can be nothing short of extraordinary.
Benefits of the Music & Memory® Program
Each participant receives their own personalized playlist and iPod or another digital listening device, and then the magic unfolds. Through the rhythms of their favorite melodies, residents might connect with their neighbors more easily, which could result in diminished feelings of social isolation. Music also has the potential to reduce symptoms of anxiety and depression. Current research supports these benefits, and researchers continue to study the effects of music on mood, memory, and more. While these results aren't guaranteed, we've personally witnessed extraordinary transformations amongst residents. Since we began offering the MUSIC & MEMORY® program, these are some of the benefits we've noticed amongst residents:
Happiness is elevated. Thanks to the power of music, many residents find themselves feeling happier and more social.
Relationships are strengthened. We've noticed that connections amongst staff, residents, and families have grown even stronger since the program began.
Memories are more easily accessible. Forgetting life's most impactful moments is frustrating, but listening to personalized music can help trigger those cherished memories for some seniors.
Cognitive functioning improves. Because music has such a powerful impact on the brain, it has the potential to increase alertness and cognitive functioning.
Medication reliance is reduced. A personalized music program can be a powerful way to reduce reliance on antipsychotic medications.
This innovative program fits in perfectly with our mission of providing personalized and human-centered care, and residents truly enjoy participating.
Certified MUSIC & MEMORY® Staff
At The Argyle, we're always looking for new ways to raise our standard of care. The MUSIC & MEMORY® program is a perfect fit for our community, and our team has completed the comprehensive, field-tested training program that's necessary for certification. During training, employees learn how to create and sustain a successful, well-designed program that truly enhances the lives of our residents. From managing playlists to evaluating the program's effectiveness to the simple act of enjoying music together, The Argyle's staff is committed to providing an enriching program that brings our independent and assisted living residents joy and puts a little more swing in their step.
Contact us to schedule a tour – we'd love to meet you!
Call today to schedule a tour 303-455-9513
I love living at The Argyle – the staff is so helpful – Mary S.