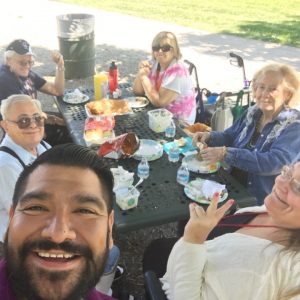 Find Current Open Positions – CLICK HERE
Our team is committed and caring, and we regularly seek new hires to join us. If you'd like to make a difference in the lives of seniors by working at The Argyle, we'd love to hear from you.
When you work at The Argyle, you get an excellent, community-focused working environment and a fulfilling career at a non-profit that truly values quality, human-centered care. Our nurturing employees strongly believe in cultivating a homey atmosphere, and are committed to helping every resident feel as comfortable as possible.
The Argyle employs a variety of caregivers, including QMAPs, receptionists, dietary aides, cooks, activity assistants, security, maintenance personnel, and laundry personnel.
Working with seniors is a fulfilling career opportunity. If you'd like to help enrich the experiences of our residents, please download and fill out our Employment Application at the button below, or call 303-217-4146 to learn more about available positions.
Employment Application – CLICK HERE