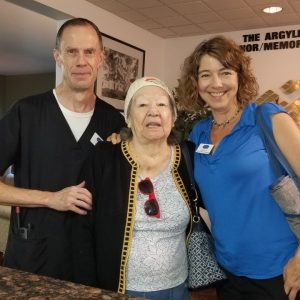 Our staff values each other and our residents and is dedicated to serving the community. Through affordable, high-quality assisted living accommodations and services to low-income and moderate-income residents, The Argyle brings happiness to life.
Our employees believe in preserving a home-like atmosphere and are committed to providing genuine interest and care to each of our residents to make them feel as comfortable as possible. Here at The Argyle, we believe in providing services at the lowest possible cost to residents, encouraging independence, and preserving the dignity of residents through human contact, care and nurturing.
Who We Are
Executive Director – Tom Carlson
Assistant Executive Director – DeAnn Vickles
Director of Health and Wellness – Chazzi Nielson
Director of Food Service – Becky Trujillo
Director of Sales and Marketing – Brian Fenwick
Director of Maintenance – John Sliz
The Argyle employs all kinds of caregivers to ensure the best quality of assistance for our residents, such as QMAPs, receptionists, dietary aides, cooks, activity assistants, security, maintenance and laundry personnel.
Apply to join The Argyle Team – CLICK HERE