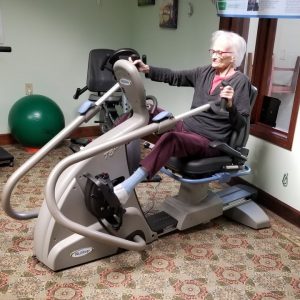 When choosing a senior living community for yourself or a loved one, we know you have questions. Some of the most commonly asked questions are included here, but if you don't see an answer to your question, please don't hesitate to reach out. Our team is happy to answer any questions so that you can make the best choice regarding this important decision.
How much do assisted living and independent living apartments cost?
As you've likely realized, costs can vary dramatically across senior living communities. In Assisted Living, for example, the total cost is based on the type and number of additional services required. Our current monthly costs for assisted living residents of The Argyle start at $2,800.
Is The Argyle a nursing home?
No, our facility is not the same as a skilled nursing home. To learn more about the different types of senior care available, visit our Care Comparisons page.
Does The Argyle take Medicaid?
The Argyle does not take Medicaid directly, and instead partners with InnovAge. InnovAge provides Medicaid processing and assistance services for prospective and current residents of The Argyle.
How much do additional services cost?
If needed, bathing assistance, continence care, medication administration, and other similar services are offered in addition to the monthly base rent. Costs for each type of service varies — to learn more about current pricing, we encourage you to contact us directly.
Is the deposit refundable?
Yes, the deposit is fully refundable, provided no damages have been incurred.
Does the rent increase each year?
Costs to tend to incrementally increase each year due to increased costs nationally and in the Colorado Front Range. Rates adjustments typically happen each fall after The Argyle's non-profit Board of Directors assess how best to maintain top-quality care and value to all residents.
How large are the rooms?
Our floor plans can be viewed on the following pages:
Assisted Living: Amenities & Floor Plans – CLICK HERE
What are the meal times?
For assisted living breakfast is at 7:15AM, lunch at 11:45AM and dinner is at 5:15PM. For independent living breakfast is at 7:45AM, lunch at 12:15PM and dinner is at 5:15PM.
Are refrigerators allowed?
Yes! We allow college dorm sized refrigerators.
Do residents have a choice for meals?
Each month, we create a new menu based on requests and feedback. We also have a light fare menu available at lunch and dinner, so residents can order a soup, salad, burger or similar item if they prefer.
Is the food good?
While this is a subjective question, we do get more compliments than complaints! Every meal served is home-cooked using wholesome, nutritious ingredients.
What is the fee for activities and outings?
Transportation to and from events is free. Activity fees depend on the event. For example, if we go to a restaurant, each resident must pay for their meal. To make things easier, we ask for one large bill at the end of the meal, and then The Argyle will add the appropriate charges to each resident's account.
How social is life at The Argyle? Do seniors tend to spend time together socializing?
Our community is open, inviting, and social. We never push residents to participate in activities or conversations that they aren't interested in, but we do encourage socializing when appropriate. For example, we encourage seniors to enjoy meals in the dining room. When you walk through our doors, you'll also see residents mingling with each other and enjoying conversations.
Are there any shops, restaurants, or other establishments in walking distance?
Absolutely! While residents don't typically head out to explore on their own, there are a number of shopping and dining options near The Argyle. When friends and family visit, enjoying these nearby amenities is a wonderful way to spend time together. To learn more about our neighborhood and everything it has to offer – CLICK HERE
Is public transportation accessible?
Yes, public transportation through RTD is available nearby. RTD also has a program called SeniorRide, plus discounted fares for seniors. We also provide transportation to scheduled events and outings.
Is the neighborhood safe?
Yes, our neighborhood is very safe. The Berkeley/Highlands neighborhood of Denver is a growing, vibrant part of the city. The area is even popular with young families and their children, and you'll always see people walking around and enjoying the atmosphere here.
Is The Argyle a secured facility?
Our residents have the freedom to come and go as they please. We simply ask residents to sign in and out of The Argyle.
Do the rooms have emergency notification systems?
Yes, each room is equipped with an emergency call system.
Is The Argyle religiously affiliated?
Regardless of individual religion, we support residents in their faith-based practices. We have a non-denominational pastor who visits regularly for Bible study, gospel hour, and more. For more information about what is happening and when, view our monthly events calendar.
How high is staff turnover?
In regards to turnover, it's very common to have a core team of staff members. However, turnover within the senior health industry does tend to be high.
How often are care needs accessed?
The Argyle completes an assessment prior to move-in, with any change of condition, and annually. These comprehensive assessments help our team establish a care plan to meet each resident's care needs.
Which hospital is The Argyle affiliated with?
In the event of an emergency, residents are usually taken to Lutheran Medical Center. Seniors and their loved ones are welcome to request a different hospital, though please note that the paramedic who responds ultimately decides which facility to use.
Call today to schedule a tour 303-455-9513
I love living at The Argyle – the staff is so helpful – Mary S.