Interested in moving to The Argyle?
We provide assisted living and independent living. Call us at 303-455-9513 for more information. Browse the information below to see what is happening at The Argyle this month.
Ask about our Assisted Living Move-in Specials!
Learn more about our rates – CLICK HERE
Learn more about our assisted living – CLICK HERE
Learn more about our independent living – CLICK HERE
---
October 2021

At The Argyle, we strive to offer a wide variety of events that reinforce the sense of community our residents value so much. Some examples of the types of activities that fill our social calendar include shopping trips, game nights, cocktail hours, group outings to local restaurants and so much more! Whether you're looking at the calendar for yourself or a loved one, don't forget to check this page for the latest schedule each month.
The Argyle October Newsletter – CLICK HERE
Our October Calendar is full of a variety of events. Please come participate, you may learn something new!
The Argyle October 2021 Calendar – CLICK HERE
Visit our Facebook Page – CLICK HERE
---
2021 Argyle Caregiver Blog Posts
Helping Your Loved One Safely Age in Place
Seniors face specific risks in the home environment. Keeping your aging parent or loved one safer as they age in place requires certain precautions to minimize accidents, fatigue and stress. With that in mind, here are the most important considerations to remember when doing a safety audit of your senior's home – READ MORE
8 Fun Activities When Visiting a Loved One in Assisted Living
When your elderly friend or loved one lives in senior care, like an assisted living community, they look forward to visits from the people they love most. During your next visit, try one (or more) of these eight activities – READ MORE
Visiting Denver's Most Senior-Accessible Parks
Denver is home to hundreds of urban parks spread across thousands of acres, which means there is truly a perfect park for every resident of the Mile High City. And many green spaces and parks are ideal for seniors, with amenities like wheelchair friendly paths, enhanced accessibility, and lovely settings – READ MORE
Vaccination Day at The Argyle!
We are so delighted and proud to announce that The Argyle received the first round of COVID-19 vaccines on Jan. 21, 2021. We thank our staff for the efforts in making the clinic go so smoothly. It took a VILLAGE to make this happen. We are grateful to CVS Pharmacy and the Pharmacists that administered the vaccination to our residents and staff. Our second round will be mid-February – READ MORE
Staying Active and Having Fun
We are so proud of our residents and staff on working together on ow to stay active, have fun and stay COVID safe. Check out these photos of resident activities … READ MORE
5 Tips on How to Teach Loved Ones How to Use Technology
Parents and grandparents teach children how to navigate the world. Now, it's your turn to be the teacher. Teach aging loved ones how to use technology that will help them find new types of entertainment, stay in touch with friends and family, continue learning, and a whole lot more with these five tips … READ MORE
Understanding How Medicare and Medicaid Impact Healthcare for the Elderly
The cost of senior healthcare can quickly stretch budgets, but knowing that financial help is available can offer some comfort. Two of the most commonly used programs are Medicare and Medicaid, and both offer financial assistance that allows seniors to maintain good health as they age … READ MORE
Medicaid for the elderly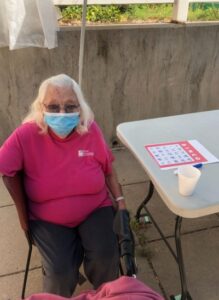 Medicaid is a federal and state-funded social safety net for elderly and disabled people who can't afford their medical expenses. Typically, Medicaid requires nearly all of the enrollee's assets and income to go toward medical care … READ MORE
Keeping our Residents Safe & Active is Interesting
The care of our residents is of the highest concern for all of us at The Argyle – this includes keeping them safe from COVID-19 and keeping them moving … READ MORE
Who doesn't love cookies?
At The Argyle we love cookies. We are giving a big thank you to the wonderful and supportive family for donating these DELICIOUS cookies for our hard working staff. We appreciate your thinking of us! … READ MORE
We appreciate the community donating meals to our staff
We so appreciate sandwiches and dinners being donated by friends of The Argyle for our staff. It is so amazing to see this outreach – thank you from all of us … READ MORE
 We celebrated Cinco de Mayo at The Argyle
Tuesday, May 5th we had a wonderful Cinco de Mayo at The Argyle. Each of our residents had a visit from one of our staff members who served special treats and a beverage of choice. We practiced safe distancing and brightened our residents day … READ MORE
We appreciate the donated masks
We are very appreciative of masks made and donated to The Argyle. These donations came from Wilmerhale Law Firm, a resident's daughter and Care Patrol Referral Service … READ MORE
Healthy Eating Tips for Seniors on a Budget
According to the World Health Organization (WHO), a large portion of the diseases that seniors suffer from are the result of a poor diet. Some of these issues have gone unnoticed since childhood and are worsened by the changes that naturally happen during aging … READ MORE
Does My Aging Loved One Need a Patient Advocate?
Navigating the healthcare system can be stressful and confusing, especially for seniors and their families. With a patient advocate, you no longer need to solve the puzzle of healthcare on your own … READ MORE
How Families Can Help Older Loved Ones Prepare for Emergencies
In the event of a natural disaster like a tornado, hurricane, or wildfire, it's important to be prepared. Seniors have specific emergency preparedness needs, and here's how to make sure your elderly loved one stays safe … READ MORE
An Inside Look into Senior Living at The Argyle
Residents of The Argyle fill their days with fun activities, socializing with friends, and so much more. Every senior who calls our community home is encouraged to participate in craft nights, Bingo games, holiday celebrations, outings to local stores, and anything else on the calendar that's of interest … READ MORE
Understanding the Benefits of a Daily Routine for Aging Loved Ones
Maintaining a daily routine can be incredibly grounding, especially for seniors who are transitioning into assisted living. During a time of so much change and uncertainty, familiar routines give older adults a sense of comfort, continuity, and control. Many benefits of routines are psychological, but there are also several physical advantages … READ MORE
How to Interview an Aging Parent, Grandparent, or Loved One
Interviewing an aging grandparent, parent, or other elderly loved one is a great way to capture memories and learn more about the past. Capturing these stories and memories is also a lovely way to spend time together during in-person visits.
If you'd like to do an interview with an elderly adult, continue reading for tips on conducting a successful interview and questions to ask … READ MORE
Prevent Caregiver Burnout with These Stress-Relieving Tips
Being a caregiver to an aging parent or loved one can be incredibly rewarding. Providing care can also be very stressful, and it's not uncommon for caregivers to feel burnt out and overwhelmed. Fortunately, there are ways to cope. Taking care of yourself mentally, emotionally, and physically will ensure you can give your loved one the best care and support possible … – READ MORE
Events around the Community
Cyber-Seniors
Cyber-Seniors provides FREE technology support and training for senior citizens. Volunteer With Us – We offer rewarding volunteer opportunities for teenagers, young adults and tech-savvy individuals of any age.
Website: https://cyberseniors.org/
Senior Planet
Senior Planet's technology training programs are available through an ever-growing network of community partners around the United States. Covering everything from computer basics to starting an online business, these courses, lectures, and workshops are designed specifically for older adult learners and measure real impact in their lives. Join us for a tour and information.
Website: https://seniorplanet.org/
Ted Talks
TED Talks are influential videos from expert speakers on education, business, science, tech and creativity, with subtitles in 100+ languages.
Website: https://www.ted.com/talks
---
Contact us to schedule a tour – we'd love to meet you!
Call today – 303-455-9513
I love living at The Argyle – the staff is so helpful – Mary S.