Interested in moving to The Argyle?
We would be glad to give you a tour of our location and answer your questions about our wonderful community. We provide assisted living and independent living. Call us at 303-455-9513 for more information. Browse the information below to see what is happening at The Argyle this month.
Ask about our Assisted Living Move-in Specials!
Learn more about our assisted living – CLICK HERE
Learn more about our independent living – CLICK HERE
January 2020

At The Argyle, we strive to offer a wide variety of events that reinforce the sense of community our residents value so much. Some examples of the types of activities that fill our social calendar include shopping trips, game nights, cocktail hours, group outings to local restaurants and so much more! Whether you're looking at the calendar for yourself or a loved one, don't forget to check this page for the latest schedule each month.
The Argyle January 2020 Newsletter – CLICK HERE
January 2020 Resident Calendar – CLICK HERE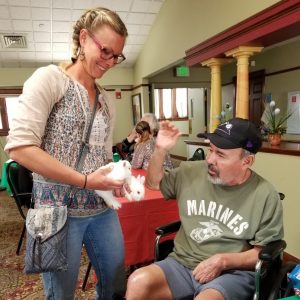 January Resident Event Highlights
9:15AM – Monday Mornings Move & Groove
9:15AM – Tueday Mornings Sit & Be Fit
9:15AM – Friday Mornings Relaxing Stretches
Jan 7 – 3:00PM 1960s Happy Hour
Jan 9 – 9:45AM Walmart Outing
Jan 11 – 2:00PM Pool in Billiards Room
Jan 16 – 10:30AM Music & Memory
Jan 17 – 3:00PM Let's Dance
Jan 21 – 6:00PM Family Night
Jan 22 – 1:30PM Mountain Man
Jan 23 – 3:00PM Let's Get Social
Jan 25 – 1:00PM Chinese New Year Celebration
Jan 28 – 10:00AM Decorate for February
Jan 29 – 11:45AM Bookmobile
Jan 30 – 3:00PM Board Game Social
Jan 31 – 2:00PM Reminisce – Worst States for Winter
Jan 31 – 3:00PM Let's Dance
Find more events on our calendar!
January 2020 Caregiver Blog Posts
How to Interview an Aging Parent, Grandparent, or Loved One
Interviewing an aging grandparent, parent, or other elderly loved one is a great way to capture memories and learn more about the past. Capturing these stories and memories is also a lovely way to spend time together during in-person visits.
If you'd like to do an interview with an elderly adult, continue reading for tips on conducting a successful interview and questions to ask … READ MORE
Prevent Caregiver Burnout with These Stress-Relieving Tips
Being a caregiver to an aging parent or loved one can be incredibly rewarding. Providing care can also be very stressful, and it's not uncommon for caregivers to feel burnt out and overwhelmed. Fortunately, there are ways to cope. Taking care of yourself mentally, emotionally, and physically will ensure you can give your loved one the best care and support possible … – READ MORE
Events around the Community
January 22, 2020 – Wednesday, 1:30PM
Mountain Man Visits The Argyle
Address: The Argyle, 4115 West 38th Avenue, Denver, Colorado 80212
On Tuesday Jan 22nd the Mountain Man visits The Argyle. Residents enjoy this visit. The local community is welcome to stop by. ave questions? Call us at 303-455-9513.
January 29, 2020 – Wednesday, 11:45AM
The Bookmobile at The Argyle
Address: The Argyle, 4115 West 38th Avenue, Denver, Colorado 80212
The Bookmobile stops by at The Argyle at 11:45. Residents enjoy this service. Our local neighbors in the Berkeley and Highlands neighborhoods are welcome to stop by and enjoy this convenience. Have questions? Call us at 303-455-9513.
March 12, 2020 – Thursday, 11:30AM – 12:30PM
Aging with Awareness Series – Estate Planning
Location: Apex Community Recreation Center
Address: 6842 Wadsworth Bvd, Arvada, CO
Join us for our quarterly class series on Aging with Awareness. This monthy we focus on Estate Planning. Free lunch provided by our sponsors and presenters: Re/Max Alliance, Fairway, RBS Law, LLC and The Argyle Assisted Living. Please RSVP to Lisa Reich at 303-929-6149.
View Event Flyer – CLICK HERE
Contact us to schedule a tour – we'd love to meet you!
Call today to schedule a tour 303-455-9513
I love living at The Argyle – the staff is so helpful – Mary S.