Interested in moving to The Argyle?
We would be glad to talk to you about our location and answer your questions about our wonderful community. We are not scheduling tours at this time due to COVID-19.
We provide assisted living and independent living. Call us at 303-455-9513 for more information. Browse the information below to see what is happening at The Argyle this month.
Ask about our Assisted Living Move-in Specials!
Learn more about our assisted living – CLICK HERE
Learn more about our independent living – CLICK HERE
---
March 13, 2020
We know many of you are concerned about the spread of COVID-19. Ensuring residents are cared for in a safe and healthy environment is our first priority. At this time, we don't have any cases in The Argyle, nor are we under quarantine.
Read More – CLICK HERE
---
March 2020

At The Argyle, we strive to offer a wide variety of events that reinforce the sense of community our residents value so much. Some examples of the types of activities that fill our social calendar include shopping trips, game nights, cocktail hours, group outings to local restaurants and so much more! Whether you're looking at the calendar for yourself or a loved one, don't forget to check this page for the latest schedule each month.*
*Due to COVID-19 some social activities for residents have been suspended out of concern for your residents
The Argyle March 2020 Newsletter – CLICK HERE
March 2020 Resident Calendar – CLICK HERE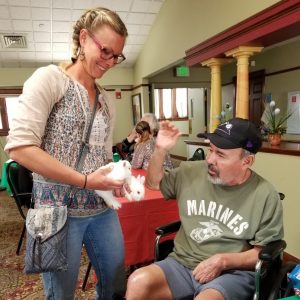 March Resident Event Highlights
9:15AM – Monday Mornings Move & Groove
9:15AM – Tueday Mornings Sit & Be Fit
9:15AM – Friday Mornings Relaxing Stretches
3:00PM – Monday Afternoons Free Bingo
3:00PM – Wednesday Afternoons Nickel Bingo
March 4 – 1:30 Mountain Man
March 5 – 3:00 TedTalk: Joyful Traditions of Mountain Music
March 6 – 2:00 Girl Scout Cookie Sales
March 7 – 10:00 "We Are the World" Day
March 8 – Daylight Savings Begins
March 10 – 3:00 Happy Hour w/ Rick Iracki
March 11 – 1:30 Hand Massage & Nail Care
March 11 – 3:00 Nickel Bingo
March 17 – Happy St. Patrick's Day
March 17 – 3:00 Happy Hour w/ Celtic Stepdancers – cancelled
March 17 – 6:00 Family Night! St. Paddy's Day Shenanigans! – cancelled
March 18 – 1:30 Mountain Man – hosted outside
March 19 – 3:00 Birthday Social
March 24 – 3:00 Senior Prom w/ Surprise Guest Performer – cancelled
March 25 – 11:45 Bookmobile
March 27 – 2:00 Cooking Club: Granola on a Stick – cancelled
March 31 – 3:00 Happy Hour
Find more events on our calendar!
2020 Caregiver Blog Posts
March – Does My Aging Loved One Need a Patient Advocate?
Navigating the healthcare system can be stressful and confusing, especially for seniors and their families. With a patient advocate, you no longer need to solve the puzzle of healthcare on your own … READ MORE
March – How Families Can Help Older Loved Ones Prepare for Emergencies
In the event of a natural disaster like a tornado, hurricane, or wildfire, it's important to be prepared. Seniors have specific emergency preparedness needs, and here's how to make sure your elderly loved one stays safe … READ MORE
February – An Inside Look into Senior Living at The Argyle
Residents of The Argyle fill their days with fun activities, socializing with friends, and so much more. Every senior who calls our community home is encouraged to participate in craft nights, Bingo games, holiday celebrations, outings to local stores, and anything else on the calendar that's of interest … READ MORE
February – Understanding the Benefits of a Daily Routine for Aging Loved Ones
Maintaining a daily routine can be incredibly grounding, especially for seniors who are transitioning into assisted living. During a time of so much change and uncertainty, familiar routines give older adults a sense of comfort, continuity, and control. Many benefits of routines are psychological, but there are also several physical advantages … READ MORE
January – How to Interview an Aging Parent, Grandparent, or Loved One
Interviewing an aging grandparent, parent, or other elderly loved one is a great way to capture memories and learn more about the past. Capturing these stories and memories is also a lovely way to spend time together during in-person visits.
If you'd like to do an interview with an elderly adult, continue reading for tips on conducting a successful interview and questions to ask … READ MORE
January – Prevent Caregiver Burnout with These Stress-Relieving Tips
Being a caregiver to an aging parent or loved one can be incredibly rewarding. Providing care can also be very stressful, and it's not uncommon for caregivers to feel burnt out and overwhelmed. Fortunately, there are ways to cope. Taking care of yourself mentally, emotionally, and physically will ensure you can give your loved one the best care and support possible … – READ MORE
Events around the Community
About Events in the Community
We take the safety and wellness of our residents, their families, our staff, and our greater community very seriously. Until the Coronavirus (COVID-19) has subsided, we are not hosting any in-person meetings nor attending events. We are keeping excursions into public areas at a minimum and we suggest that you do the same. However, we are always available by phone. If you are in need of senior housing for an older adult please call us and we will discuss options available with the current health situation.
March 4 & 18, 2020 – Wednesday, 1:30PM
Mountain Man Visits The Argyle
Address: The Argyle, 4115 West 38th Avenue, Denver, Colorado 80212
As long as the weather is nice we will be hosting the Mountain Man outside of The Argyle. Residents enjoy this visit and can go outside to purchase items. Call us at 303-455-9513.
March 25, 2020 – Wednesday, 11:45AM
The Bookmobile at The Argyle
Address: The Argyle, 4115 West 38th Avenue, Denver, Colorado 80212
The Bookmobile stops by at The Argyle at 11:45. Residents enjoy this service and as long as it is outside we are continuing this service. Our local neighbors in the Berkeley and Highlands neighborhoods are welcome to stop by and enjoy this convenience. Have questions? Call us at 303-455-9513.
---
Contact us to schedule a tour – we'd love to meet you!
Call today – 303-455-9513
I love living at The Argyle – the staff is so helpful – Mary S.